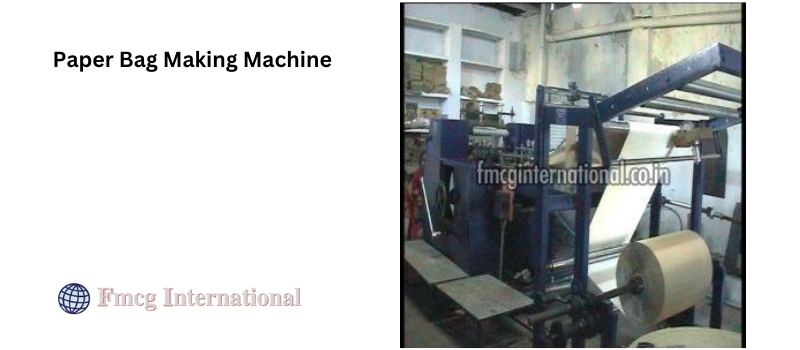 For more than a thousand years, paper bags have been used in trade and commerce. Plastic bags still pose a threat to them, yet they are nevertheless a common form of packaging. Today's market offers a variety of paper bags varieties. Paper bags with square bottoms can be used for delivering groceries, packing food, and other things.
A paper bag production machine from Paper Bag Machine Manufacturer in India is used to produce these bags in bulk. If you want to operate a paper bag manufacturing business, you should have a piece of cutting-edge equipment that can quickly and efficiently make big amounts of high-quality bags.
Since its modest beginnings in the middle of the eighteenth century, paper bags have been on the market for a considerable amount of time as manufacturers have created paper bags that are stronger and more durable.
Paper bags' square bottoms also enable them to stand upright and store more items at once. They are also far safer, greener, and biodegradable when compared to plastic bags. These square-bottom bags are produced by the flexible paper bag production machine from Paper Bag Machine Manufacturer in Tiruvannamalai.


It may be used to create food, grocery, and shopping bags.
Used to produce chic gift bags and handle-equipped paper bags. Using printed or unprinted roll paper, this special machine creates the paper bag in a single step, glueing the sides, folding the rolls, cutting, folding the bottom, glueing the bottom, and producing the bag.
The machine has a human-machine touchscreen interface and can be PC programmed to produce a variety of paper bag specs. It offers several benefits, including rapid productivity, quick changeover, simplicity of use, and complete automation.
Given how much time and effort manufacturers put into creating eye-catching paper bags for their products, square-bottom paper bags have almost taken on the position of a fashion and status symbol in today's market. Customers receive a type of free promotion and endorsement when purchasing aesthetically pleasing paper bags that advertise the business's brand.
Additionally, using these bags has a lot of positive environmental effects. They are easily maintained and frequently reused. They may be recycled and decomposed naturally. Paper bags may be carried to a paper mill to be recycled into new paper, are created from a naturally replenishable resource, and can be used again.
Paper bags can need less power to recycle than plastic ones. Paper bags are also recyclable and less harmful to the environment and animals than other types of bags.


Benefits On Offer:
Better Quality -
Though they might occasionally be adorable, it can be difficult to find handcrafted bags in large quantities. Additionally, you won't find bags of higher quality. Your time and sales values will both be impacted by this. In addition, Paper Bag Machine provides you with excellent quality products that are certain to make you happy as opposed to the labour-intensive hand approach.


Cost-Effectiveness -
When compared to the bag-producing machine, traditional methods are more expensive and labour-intensive. They take too much time. For instance, when a team member is missing, the work level would drop, but when a worker is on vacation, the level of the organisation is unaffected.


Time Savings -
Traditional methods take more time and potentially hurt your business and lower output levels. The effect on productivity level is related to the size of the individual. However, the bag-making machine process takes less time and offers good quality all along the way.
When beginning a business, it is important to bear in mind the types of paper bags that are required. It may be quite helpful to choose the best and most economical bag manufacturing machine.
The paper bag machine from an Automatic Paper Bag Machine Manufacturer is inexpensive and fully automated. To provide the raw material and separate the final paper bags, just mediation is required. In comparison to a person, it will operate more effectively and require fewer breaks. Additionally, it will ensure efficient manufacturing, improve the function of production, and do much more.