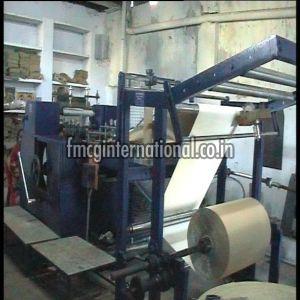 In present times, paper bag making machine is high in demand as people can easily produce paper bag because of its high production output, reliability, less labor requirements, minimum maintenance cost and better quality. Paper bag is extensively used in shopping complexes, textiles, dry cleaners, bakers, grocers, stationers, sweet sellers and many other retail shops. Moreover, this kind of bag can be reused repeatedly and is also environmental friendly, unlike the ordinary plastic bag, which has negative impact on environment.

Functions Of Paper Bag Making Machine
This machine takes care of certain important functions that include material feeding, sealing, cutting and stacking.
Material Feeding – There is a feeder section that is mainly used to convey the paper rolls throughout the bag making machine, so that the required operations can be carried out conveniently. Other operations like sealing and cutting can only be carried out when material feeding is stopped.
Sealing – In this section, sealing elements are used to seal the bags effectively at specific temperatures. The temperature, the time span and type of the sealing completely depends on the type of paper.
Cutting And Stacking – Just like sealing, it is also an ideal format of paper bag making machine. Depending on the design of paper bag, extra operations like adding zippers, hole punching, handle punching, tamper proof seal, spouting, capping and many more are carried out. Certain accessories are attached in the machine that help to carry out the additional operations.

With the help of paper bag making machine, superior quality of paper bags can be effectively manufactured as per customer demands. The Paper Bag making machines are available in different configurations & are capable of producing different kinds of paper bags and paper covers. To make sure that your investment turns out to be reliable, it is essential that you select a reputed Paper Bag Making Machine Machine Manufacturer to buy from.