Paper Bags Environmental Crusade
Posted by Admin on April, 21, 2015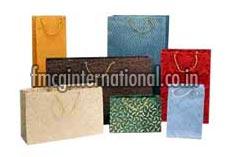 Plastic Bags may be convenient to use, but the environmental damage caused by them is more than inconvenient. Plastics can take nearly 1000 years to degrade, which has put a dangerous problem on the face of the world. The solution to combat plastics is to start a Paper Bag Project. Paper Bags are wrongly believed to be made from destruction of trees. The wood used in paper making is grown in a controlled environment and is harvested in 18-20 years, when 3 new samplings are planted in place of 1 harvested tree.
Advantages of Paper Bags
Paper Bags are scientifically proven to be more advantageous because they produce less greenhouse gas and cause less water pollution than plastic bags. Some of the common advantages include:
Made from Renewable Resource: The crop Trees that are used for making paper are constantly replanted and regrown. And these trees are owned by privately owned lands, thus no forests are uprooted for making paper bags

Naturally decomposes: Paper Bag Making Machine makes paper from wood. So even if any type of paper product like Grease Proof Paper are littered, they would decompose naturally and fast, causing no litter issues like plastics.

Highly Recycled: A report by a leading environmental group shows that 72% of all papers and paperboard package like Ribbed Kraft Paper was recovered from recycling. This is nearly 7 times more than the recycling rate of plastics (14%).

Less fossil fuel used: The advent of Automatic Paper Bag Making Machine has contributed to saving the environment because it uses 33% less fossil fuel than a plastic making machine and is able to run on renewable energy.
Paper Bags are a great environmental choice because they are compostable, reusable and reliable. The use of technology in Paper Bags has helped in increasing the strength so they are able to carry more weight without tearing. Use of paper bags over plastic should become a necessity to protect the environment.