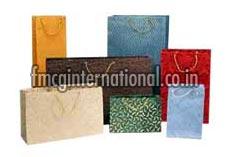 Thousands of people around the world use Bags on a regular basis. Bags are found in various materials, used for a wide range of purposes that may include carrying grocery items, clothes, jewelry, books, vegetables etc, and what not. Although most of us use a Paper Bag on a daily basis, the process of Bag Making is unknown to us. Paper Bag Making Machine Exporters and Manufacturers in India provide various types of machines to help industries in creating different kinds of Paper Bags available in many sizes and styles.
A typical bag making line may include following processes:
Feeding: This is the first stage of Bag Making where bag making material is unwound from a feeder roll. Feeding is the most important process in Bag Making followed by cutting and sealing, which come once the feeding operation has stopped. The Feed Roller is used by the machine to move the film through various sections in order to complete necessary operations required by the machine. A dancer system is used to maintain constant pressure and accuracy in feed.
Sealing: In this section of the machine, temperature controlled sealing elements are mixed with the film for a short period that helps in proper sealing of the material. The sealing time and temperature depends on the type of material being fed into the machine. Sealing is done to combine open portions of the bag together and provide the Bag with its initial design.
Cutting and Stacking: The process of sealing is followed by cutting and stacking of the bag, operations such as punching holes, tamper proof application and zipper fitting are carried out in this process which gives the Bag its final finish.

Nowadays, people prefer Paper Bags to Plastic Bags as they are environment friendly. As a result, the demand is growing and many industries are switching to Paper Bags rather than Plastic Bags.